Empress of india nasturtium
Common Name :Empress of india nasturtium, garden nasturtium red Botanical name :Tropaeolum majus Family : Tropaeolaceae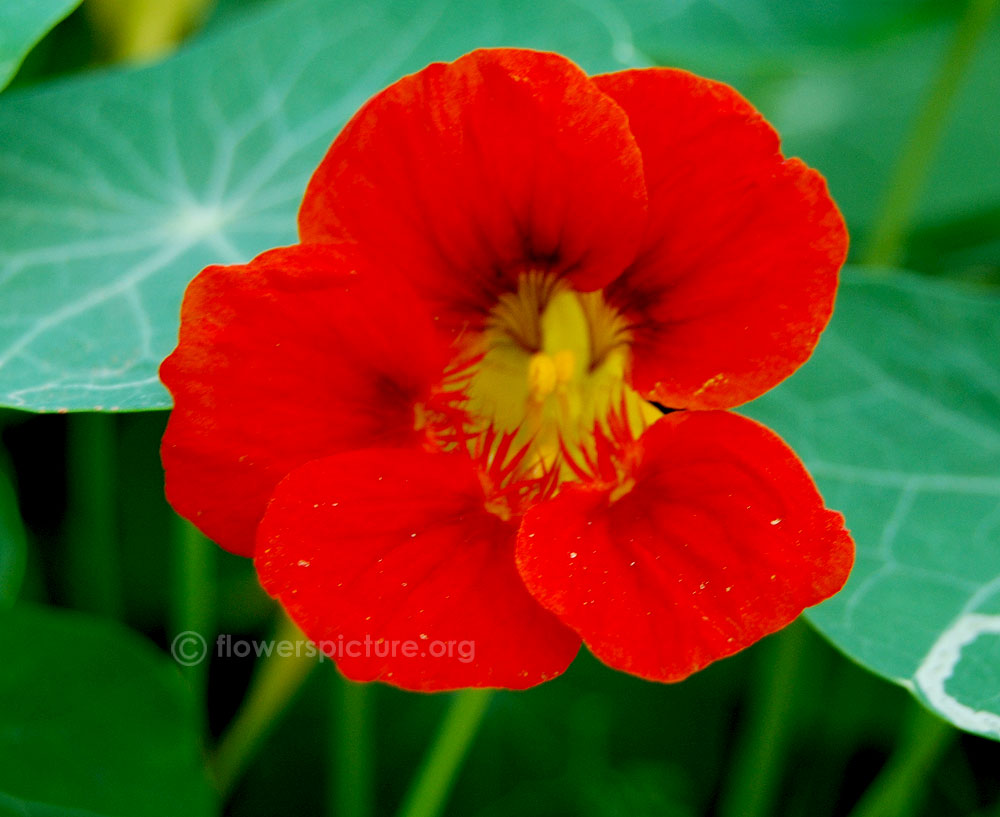 Tropaeolum majus is strictly a perennial and native to Peru, but is cultivated in Britain as a hardy annual. The habit is climbing; the leaves are rounded and of kidney shape; the flowers are about two and a half inches across, with nectar spurs. There are now many varieties, climbing and dwarf, single and double, with a color range varying from yellow to shades of orange, yellow, pink and red. Some varieties have variegated leaves. The gleam varieties are notable double semi-dwarfs, and the globe double dwarfs. Var.nanum is the single dwarf Tom Thumb nasturtium of many colors and low bushy growth. The Peruvian T. peregrinum is the familiar canary creeper with yellow flowers and of self climbing habit.

Seeds of T. manjus and varieties may be sown in April outdoors in a sunny location and not too rich soil where the plants are to flower. The seeds are used for salads. Seeds of T. peregrinum may be sown under glass in March and planted in May. Propagation is from seed.

The flowering season is from July to September.

Kingdom - Plantae
Order - Brassicales
Genus - Tropaeolum
Species - majus
Synonym - Tropaeolum hybridum, Cardamindum majus
Origin / Native - Central & South America
Category - Herb, small bush, trailing plant
Type/Life Cycle - Annual, perennial
Height - 2 to 3.5 feet
Spread - 9 inches to 72 inches wide
Growth Rate - Fast
Flowers - Small, showy, fragrant, edible, bright crimson red color, 5 petals, 8 stamens, funnel shaped in the back, 2.36 inches wide
Foliage - Green, showy, deciduous, aromatic, edible, rounded, 5 inches wide, 11 inches tall petiole connected in middle of the leaf
Attracts - Bees
Uses - Cuisine, Ornamental plant, Medicinal
Light Requirement & Care - Full Sun or Part shade, average water, moist, well drained soils, low maintenance
Flowering Season - Summer, Fall
Flowering Colors - yellow, orange, maroon, pale yellow, beige, cherry red, cream, maroon, apricot, salmon, red
Good For - Edges, patios, borders, parks, cottage & herb Garden , hanging baskets, containers
Photographs: Guna Selvi Camera: Nikon D40x Location : Lalbagh Botanical Gardens, Bangalore[Bengaluru], Karnataka, South India, India
Flowers & Plants by Categories