Viola tricolor
Common Name : Three faces in a hood, heart's delight, Johnny Jump-Up, Wild Pansy Botanical Name : Viola tricolor Family : Violaceae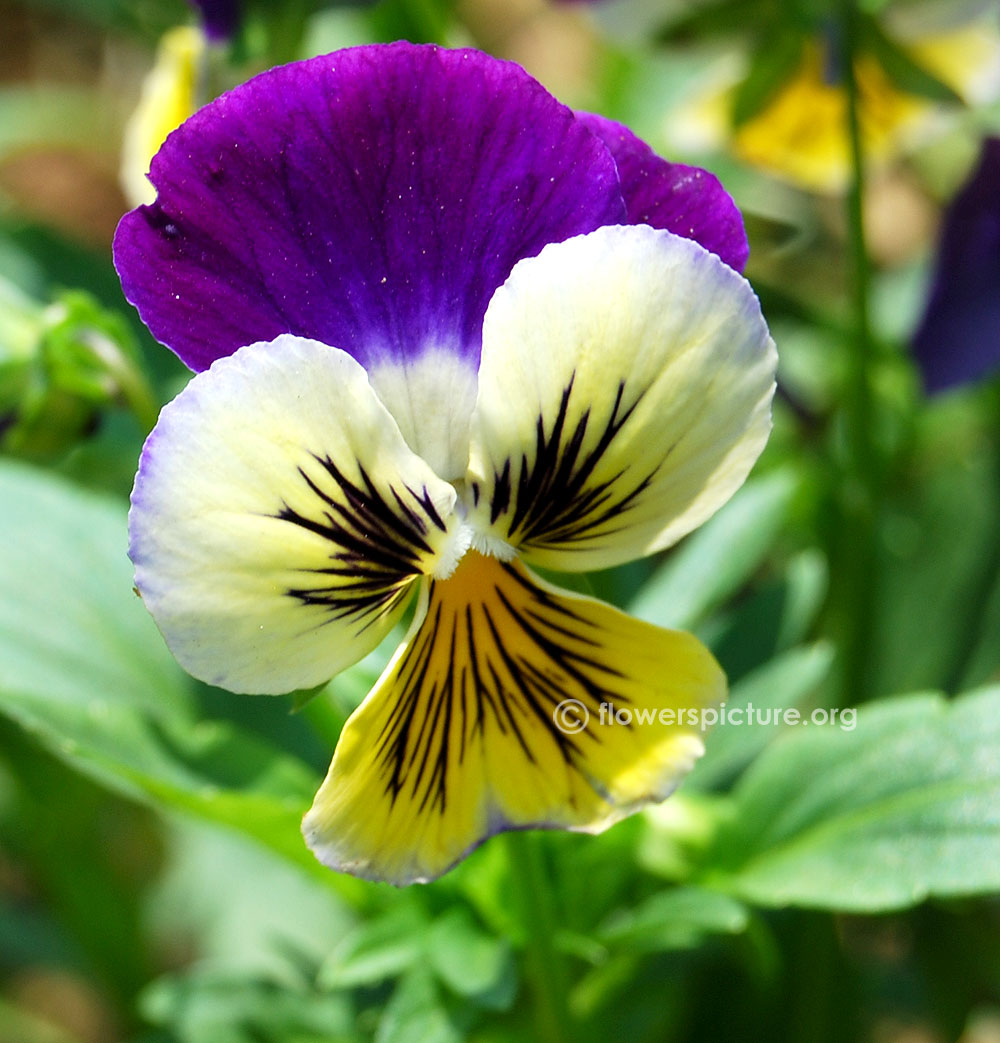 Description - A race of dainty perennials that inhabit the temperate regions of the Old and new worlds. V. cornuta , or the Horned Violet, has rounded foliage, toothed and of tufted habit; the flowers, two inches or less at the widest part, are violet. Its forms show a great variation in color from white to yellow and purple, and it is believed that this species was used extensively by raisers when evolving the brilliantly coloured bedding Tufted Pansies or Violas.

V. gracilis , reaches about 9 inches with violet flowers.

V. pedata , the Bird's Foot Violet has flowers with two upper petals of deep violet and 3 lower ones of lilac; there is a white form.

V. odorata , is the favourite sweet-scented Violet with its many shades of color and with double and single flowers.

A position in partial shade is preferable and in soil that has been enriched with a liberal quantity of leaf-mould or old manure, moisture with good drainage being essential to their well-being.

Propagate by means of cuttings or from seed.

The flowering season is in spring and summer.
Kingdom - Plantae
Order - Malpighiales
Genus - Viola
Origin / Native - Europe, Asia
Type & Category - Annual, Biennial, Short-lived Perennial
Growth Rate - Medium
Light Requirement&Care - Full sun, part shade, well drained, moist, fertile soil, water regularly
Propagation From - Seed
Good For - Garden beds, small pots, containers, borders, edging
Height - Up to 16 cm
Spread - Up to 6 inches
Flowering - Blooming repeatedly
Foliage&Plant - Evergreen
Flowers - Small, showy, 5 petals, purple, violet color-upper 2 petals, lower 3 petal-yellow color, faces with patterned black strips
Light Requirement&Care - Full sun, part shade, well drained, moist soil, water daily, low maintenance
Viola tricolor plant

Photographs: Guna Selvi Camera: Nikon D40x Location : Ooty flower show 2014, Govt. Botanical Garden, Nilgiri Hills, TamilNadu, South India, India
Flowers & Plants by Categories