Lilium
Common Name : Lilium, True lilies Botanical name : Lilium auratum Family : Liliaceae Order : Liliales Life Cycle : Perennial Category : Herb Uses : Cut flowers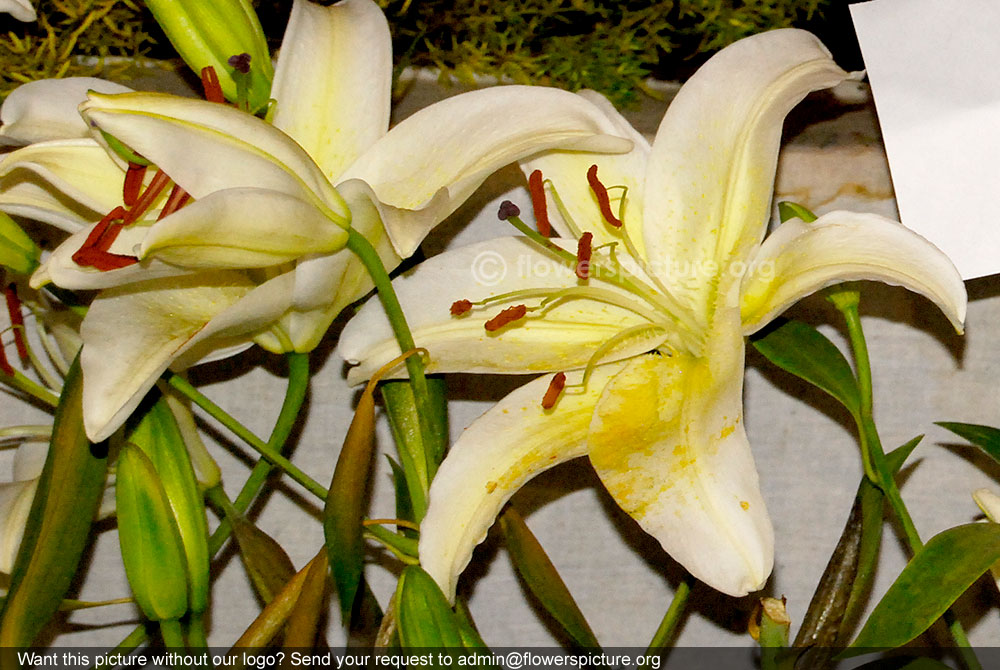 Lilies are elegant plants and give the garden a welcome refinement and hence even a few numbers drastically change the garden. Selecting robust varieties that keeps them flourishing and also helps in keeping them disease and pest free. The bulb has brown scales and a short neck with narrow strap shaped pointed waxy green leaves 2-3 cm wide and long round stalk bearing 2 or more obliquely trumpet shaped flowers of 12 cm diameter and 10 cm long with white petals with a center of red streaks in bands/spots and an oblique feathery corona in base, with stamens that are straight and larger than stigma .Petals gently curl back.
Loves soil rich in humus. Dig soil to a depth of at least 30cm and mix in plenty of compost, surround with a pocket of sand to prevent rotting. When stems are about a feet in height support with stakes. Plants can be grown in semi shade.
Propagation is by bulbs.
Photographs: Sridher Camera: Nikon D40x Location : Chennai flower show 2008, Chennai Trade Center, Tamil Nadu, India
Flowers & Plants by Categories